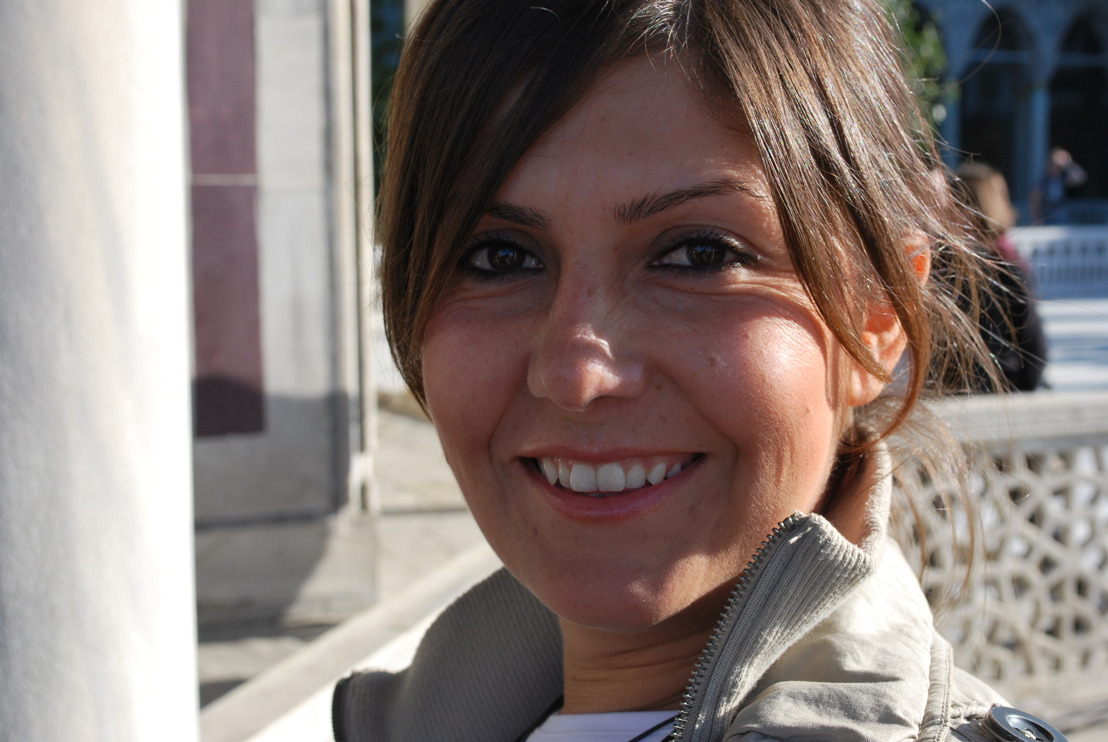 'Having both a Turkish as well as a Belgian identity, is so enriching'
Mihrican's positivity and hard-work inspires many people
There are a few courageous, ambitious and driven people for whom the sky is the limit. Mihrican Kaya Pelckmans (39) is definitely one of those people. From completing her bachelor's degree in Istanbul, ​ to getting married to a Belgian man, to working in various business departments in Turkey, to moving to Belgium for the sake of her family and to finally reach to Thomas More Mechelen to study the Short Programme of International Tourism and Leisure: she does it all!
Mihrican is originally from Turkey and moved to Belgium in 2015 when she and her husband decided to move here for a stable and calm future. 'I met my husband coincidentally in Madrid, not in Belgium or Turkey', laughs Mihrican. 'During the early years of our marriage, he moved to Turkey with me. We tried to find a job for him, but that was difficult. It was better to move to Belgium for a stable future and to be together.'
Istanbul – my love!
Mihrican got her bachelor's degree in Business Administration from Istanbul University. After completing her studies she pursued a career in Turkey as a professional sales executive at various telecommunication global companies. Mihrican reminisces to those days and takes us back to her student time in Turkey, from 1999 to 2003. ​ 'Istanbul is a very bustling city. I had a great time during my student time', remembers Mihrican. 'My classmates and I had so much fun back then. There were a lot of parties, an exquisite nightlife, bars and everything a student can ask for. Those were different times. Obviously there was no internet back then, no smartphones and no online classes. We used to study from physical books, used floppy disks and went outside regularly to have lunch.'
Coming home to Belgium
Mihrican's life in Turkey was very different from her life in Belgium. "There are a lot of cultural differences between both the countries, yet there are a few similarities. In Turkey we are more social and we like to gather in crowds. We are not well-organized: we do everything spontaneously and last-minute. In Belgium we need to plan weeks or months before to schedule a day-out with your friend", says Mihrican. "My husband is Belgian and because of him I have adapted easily into the Belgian culture. We also have a huge Turkish community in Belgium. We connect and meet one another via social media. We try to connect and merge our network as much as we can", she further adds. "Did you know that the Turkish food in Belgium is not the real authentic food which we eat back home in Turkey", laughs Mihrican. "The döner which you find here in Turkish restaurants is not a common dish we eat or prepare in Turkeys.'
The career switch
When Mihrican moved to Belgium she didn't expect to face difficulties finding a full-fledged job in her field here, but due to the language barrier she could not find any desirable job in which she wanted to pursue a career in. 'I had taken Dutch classes and reached the B1-level, but that didn't suffice in finding a good job. I decided to make a career switch. 'The tourism microbes were always a part of me', says Mihrican. 'I have friends and people from my network who always recommend me adventurous places or delicious restaurants to visit. I thought it would be cool to study that in theory and advise external people to visit marvelous places and to illuminate the hidden gems in the world', she says.
During her research of various programs of courses, Mihrican bumped into the Short Track of ​ the International Tourism and Leisure course at Thomas More. She immediately contacted the program manager and ​ was delighted to hear she could complete this course in one year. ​ As I was working full time, I kept on postponing my application process but one day, I took the courage and called the program manager to tell her that I want to enroll myself in the course.
Stepping into International Tourism and Leisure
Mihrican hasn't had any regrets for even one second of her decision in choosing this course. 'I'm learning so much in this course. The short program is a mix of subjects throughout the full program of three years. My teachers are also really cool people. They are specialized in their subject and know what they are talking about', Mihrican tells us. 'I was imagining I would sit on the first row of class and have chit chat with my class fellows, but I'm not going to complain because even digitally I'm extending my network', laughs Mihrican. 'My classmates see me as a veteran and they really appreciate me.'
'We need to step out of the idea that you can't study when you get older. These are misconceptions. It is never late to study again'
'I'm also glad I'm not the only one who is in this short program track. There is another student who's on the same track. I contacted him and we did everything together. Little by little we both started connecting with our other classmates to get the group projects done', says Mihrican regarding her interaction with other classmates. 'One of my classmates whom I did not even know sent me a very beautiful Christmas card. She told me she has been following me during class and thought I'm very positive and helpful so she wanted to send some festive well-wishes to my way', smiles Mihrican. 'This course is such an enriching experience. There are a lot of different cultures in our class. Everyone in my class tells me they learn a lot from me, but I learn a lot from them too. The group projects are very challenging, but that's where the fun is", says Mihrican. 'I think all of the teachers know me by name too. I'm not someone who shies away from asking questions. The teachers are almost as old as me and that makes our bond stronger', adds Mihrican.
Dreams, ambitions and much more
Mihrican dreams of starting her own business. 'I will be doing my internship this summer and my teachers are helping to find me an internship which matches my enhancing profile. I might end up working at the place of my internship but beside that I am secretly hoping to become the lady boss of my own company someday', Mihrican tells us. ​
Mihrican advises potential students to consider various bachelor programs at Thomas More. 'We need to step out of the idea that you can't study when you get older. These are misconceptions. It is never late to study again', says Mihrican. 'I would advise students to search for programs based on their own interests. Thomas More is a good alternative for students who already have a bachelor degree too. It's financially affordable and has a huge range of courses to choose from', ends Mihrican.