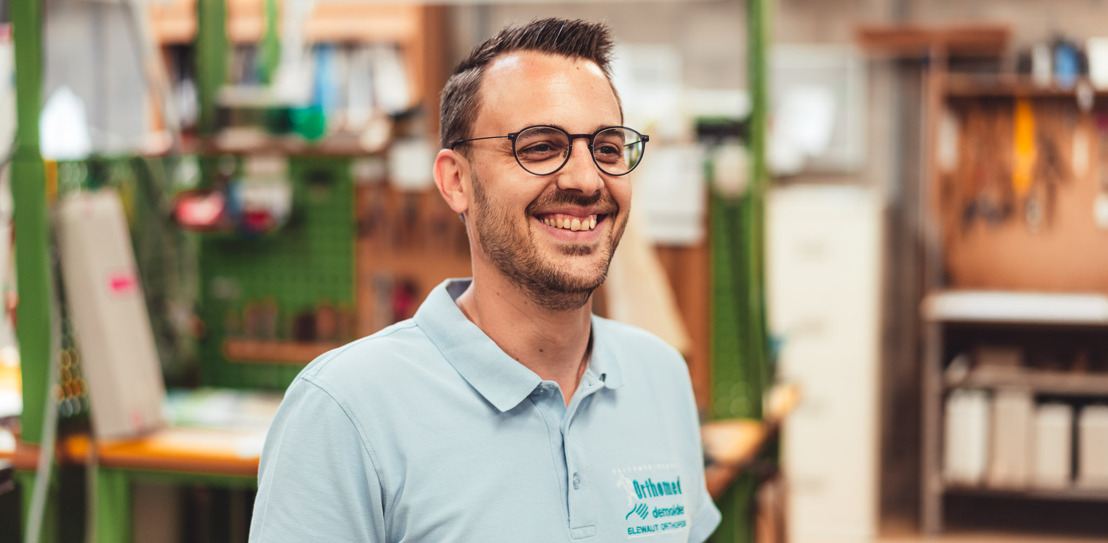 'I can still see myself in the workshop, a little kid hammering nails into a block of wood'
Geert Demolder, fourth-generation orthopaedics expert
Developing mobility aids for people with a disability: the Demolder family has been creating high-quality prosthetics, custom orthopaedic aids and bandages for four generations now, in Limburg and abroad. Geert Demolder earned a degree in orthopaedics at the Geel campus in 2007. He is now continuing the family tradition. 'This isn't assembly line work, it's craftsmanship that puts the patient first. That's our mission every day.'
​
​Orthopaedics is in Geert's blood. 'My earliest memory is in the workshop, hammering nails into a block of wood. For years, I've watched that world evolve and change a great deal.'
​
​It's a job – a craft, really – in which head, hands and heart are important. Insight, technology, and communication: this is what orthopaedics means to Geert. 'And that combination makes it incredibly fascinating. As an orthopedist, you're involved in all phases: you listen to the patient's needs, take measurements at the hospital or in the workshop, make plaster moulds, do the administration, and roll up your sleeves in the workshop. Every day is different.'
(Text continues under photos)
Geert found the same diversity and variety in the Orthopaedics programme. 'I've always been pretty handy, but I really learned a lot during the practical lessons. Anatomy was by far the hardest course in the programme. In fact, I spent an entire exam period on it in my first year and only got a 6 out of 20 on my first exam! Fortunately, that was rock bottom and things only got better from there. Although, to be honest, there have been times I've had to ask for a small grade compensation…'
​
​Geert lived in a student house in Geel. 'The vibe was really great. It was a small but close community. I would ride my bike from the campus to the station and then take the train to Hasselt. It took fifty minutes with a lot of stops – the perfect opportunity to brush up on my anatomy knowledge, ha!'
'I want diversity in my work; to help people move and stay mobile. No robots for me.'Geert's study tips? 'Don't just focus on the subjects you were good at in secondary school. Following your passion is much better for your academic career than sticking to subjects you did well in. I studied industrial computer technology in secondary school. If I would have continued down that path, I'd probably be doing maintenance on robots right now. But sitting on a chair and staring at a screen all day isn't for me. I just wasn't made for that. I want diversity in my work; to help people move and stay mobile. No robots for me.' The decision to study orthopaedics was an easy one. The circle was complete.
(Text continues under photos)
His family background in the business wasn't always an advantage. 'My last name made it really hard to find an internship in Belgium. So I looked across the border and ended up interning in the Netherlands instead.'
​
​In the meantime, the Demolder family business became part of the Orthomed Groep, along with several other family-owned businesses in the orthopaedics industry, including Orthomed, Elewaut Orthopedie and Schoofs Orthopedie. This allowed the company to scale up without losing the family nature of the business and gain extensive expertise in the field of orthopaedics. Geert can now manage his team while simultaneously focusing on patients.
'There's plenty of employment potential in orthopaedics. I started working for the family business immediately after graduating. And here I am, more than a decade later, albeit with more responsibilities. Even without the Demolder name, it's relatively easy to find a job with an orthopaedics degree. In fact, we offer jobs to several interns every year. A happy Thomas More family!'
(lc)
---
Misschien zit de bachelor Orthopedie jou ook wel als gegoten? Meer informatie vind je hier. Of kom eens - online of offline - langs op een van onze infomomenten.
Inspired by this story? Discover our brand new Orthopaedics programme. Or visit us at one of these info moments.