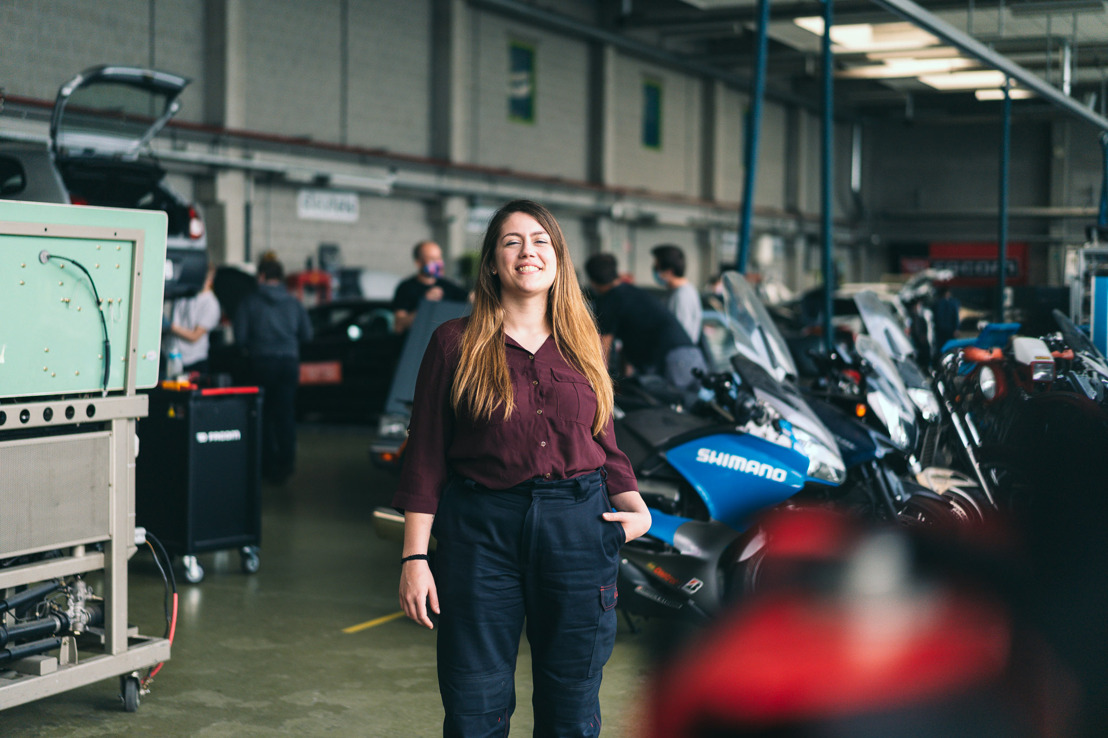 'There is nothing to worry about, everyone will try to help you as much as possible even if you've never had any practical experiences …'
'Ten questions for Talia'
👩Talia Heirman
​🌍 From Belgium
​⚙️Automotive Technology
​🎓Frist year student on Campus De Nayer, into mechanics, wants an international background
Why did you choose the Automotive Technology course?
Mainly because I like mechanics. I used to study bot mechanics and I wanted to change and do something different. I chose car mechanics here, and I chose it in English so that I can have a more international background.
If you had 2 minutes, how would you describe the Automotive Technology course?
Why did you choose Thomas More?
I have friends living in Antwerp and I wanted to be close enough, but also because the other schools that offered an Automotive Technology course were not as interesting as the course here.
How do you feel about Thomas More? How is your interaction with other students?
I feel really good. I really like the course and there are practical classes as well as online theoretical ones. The interaction with the students is amazing and they are very nice! There are students from here that speak dutch, and like me, want to take a course in English for the international aspect. And there are some people from abroad. One that comes from India and another that comes from Argentina, for example, so it's a mix.
What about your interaction with the staff and teachers?
Honestly, my interactions have been only positive, the staff and the teachers are there when you need advice or help for any problem. I notice it even more because I'm away from my family and I can rely on attentive people that care about my professional future.
Do you have a favourite subject?
Yes, there is one! We have this class called 'Internal Combustion Engines'. It is quite interesting, more specifically the lab part, which is very practical and we actually get to work on the (car) parts. I really like it! I am not as good in theoretical classes as in practical ones, so that is definitely my favorite (smiles).
What do you think of the facilities on your campus, the ​ areas, but more specifically the working floor where you have to perform the practical classes?
The school is pretty wide and there has been some renovation done on campus, so I haven't visited everything but all the gathering areas are nice, we also got some studying places when you want to work but can't do so at home. And since the ATC where we work is pretty recent (2004), all our tools and the infrastructure are made to be easy to use and practical, the cars we work on are most often donations and we get new ones to work on pretty frequently.
Are you the only girl in the course?
In this year, yes. I believe this is the first year that they do this course in English, but I think in the Dutch course there are some girls, also.
Do you have a specific job that you want to do later?
I have been thinking about it and … I pretty much like the mechanics field, so maybe being a basic mechanic. On the other hand, I want to make a lot of money (laughs), so maybe working in an insurance company, as a technician who inspects cars that have been in accidents.
It is a very rare thing to see women in that field. Why do think that is? If you could give any advice for other women who are interested in this area of studies, what would it be?
Yes, it is pretty rare, I think it all comes down to culture. That even in childhood, parents don't raise their daughters to like or get interested in all that is related to cars or mechanics in general. It's commonly perceived as being a masculine thing to do or to get interested in. We are currently 2 women in the English section, we have been well received by the teachers as well as the other students because attitudes are evolving and younger people aren't as close-minded as they used to be. My advice is, ​ if you think you might be interested but don't have ways of being sure, try finding information about it online, asking people around you, watching videos or even tv shows about it, and when you are sure that's what you'd like to do, talk about it to your parents and join us at Thomas More, you don't have anything to worry about, everyone will try to help you as much as possible even if you've never had any practical experiences. I hope to see you soon!
---
🌍 Belgian student who joined an English-taught course to acquire an international background
🎓The first batch of Thomas More international students in Automotive Technology
♀️Is changing the status quo by joining a predominantly male field and wants to encourage other women to join her