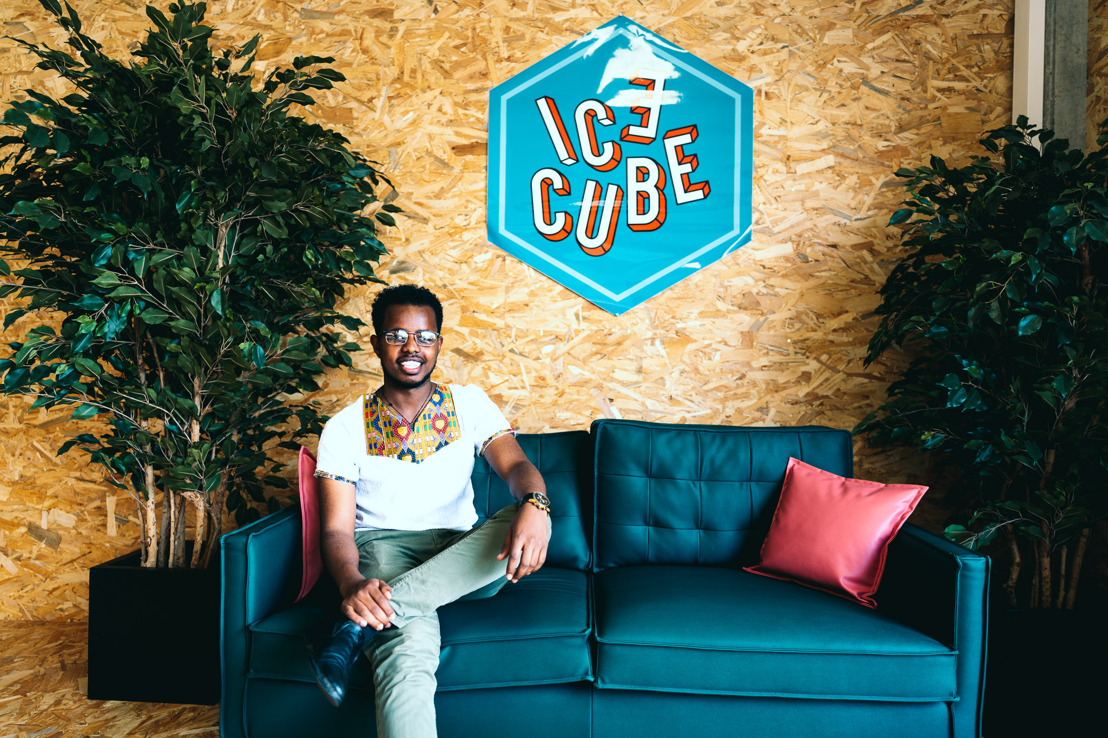 A stargazer for Africa
Ethiopian civil war blocks dream of ICE Honours alumnus and space ambassador Tensae
It was in Ethiopian manuscripts thousands of years old that Tensae Alemayehu Ali discovered his love for the stars and space. 'I realised that space travel is not a Western privilege, but that our forefathers were also founders of astronomy, that it belongs to our African roots,' says the young fifth-year student at Mekelle University who has just been nominated as 'top 10 under 30' by the organisation Space in Africa. We spoke to Tensae during the lunch break of the Summer School of Thomas More in Geel and listened with fascination to an inspired young man, who unfortunately sees his promising future as a scientist and ambassador of African space sciences blocked by the terrible civil war currently raging in his country.
'Yes, I am in Belgium for the first time. The first time in Europe actually. Although. I was in Istanbul once already, on the European side', laughs Tensae. Maybe that counts too.' Tensae is staying in Antwerp, at Campus National and is very enthusiastic about the city. I love the central station', he says, 'and I was also surprised by the diversity in the city, so many different kinds of people. And such a small country too. We travelled to Amsterdam, abroad, for the COIL programme (Collaborative Online International Learning). We arrived there before i even realised it. ​ But seriously, I hope to return one day. Definitely.'
' ... because that is the purpose of ICE Honours: setting up a project that has social impact and that requires entrepreneurship, leadership and teamwork.'
Mekelle
In fact, Tensae was lucky to be doing his internship in his hometown of Addis Abeba when the university of Mekelle was locked down. Mekelle is the capital of Tigray, Ethiopia's northern province. In September last year, local elections were held in Tigray, which were clearly won by the local party. The election result was not recognized by the national government. A war broke out between the local troops and the national army, which claimed many thousands of victims on both sides. One year later the situation is dramatic. The war is spreading. [1]
'The whole Tigray region is now hermetically sealed. My school is closed, the bank accounts are blocked, there is no internet, sometimes there is power, often not. Occasionally a hundred or so trucks with food aid pass through. But in an area of five million people, these are crumbs. My fellow students have been evacuated from Tigray in UN convoys. At least the students who do not live there. The others have returned to their villages. This is disastrous for our studies. More than 10.000 students of the 4 universities in the Tigray region are affected. Personally I only have to finish my bachelor's thesis, but I can't go anywhere. I cannot go back and all my data are in Mekelle on the server, the outprints of my study certificates do not count. So I cannot transfer to a university outside the zone to continue my studies. And in fact, even my ICE Honours Degree I received may not count, because that is linked to the Bachelor's degree that I don't have yet. It is a dilemma. Fortunately, I still have my job as regional coordinator for Africa for SGAC (the Space Generation Advisory Council based in Vienna). But that is voluntary work, of course.'
'It is actually quite hopeless', sighs Tensae 'Personally, 'I am safe at home in Addis Abeba, but Mekkele was my home for five years, the people there were my brothers and sisters, I celebrated Christmas, I grew up there, it is my second home.'
The astronomers
Tensae started studying Mechanical Engineering in Mekelle because you cannot study Aerospace Engineering in Ethiopia and this education was the closest he could get. Because that is what Tensae wants to be: aerospace engineer. What spark ignited Tensae's love of the stars, telescopes, rockets and satellites?
'I went to a Christian secondary school. And the priests there gave me the opportunity to look into ancient manuscripts. Ethiopia has the oldest Bibles in the world, did you know that? They are in Ge'ez, which is an ancient language that still exists, in the liturgy, for example. I can read it and speak it a little. We make poems with it, riddles in rhyme actually, that make people think, very philosophical. Anyway, I found a lot of 'funny facts' with those astronomers. That there are 16 planets, that the sun arose from a very small thing, accurate descriptions of the mechanism of a lunar eclipse. All close to what we know now. It dawned on me that NASA and Europe do not have a patent on this knowledge, but that we in Africa have not progressed and that it is up to us, the African youth, to change that.'
The astrobus
As a budding space scientist, Tensae's career has already taken a high flight. He is regional coordinator for Africa for the SGAC. The Space Generation Advisory Council is a non-governmental organisation affiliated with the United Nations that unites young space scientists in 165 countries worldwide to support the peaceful use of space discoveries. When Tensae starts talking about his mission, he is unstoppable.
'As vice-president of the Mekelle branch of the Ethiopian Space Science Society (ESSS), I have worked on many projects to promote space science in my country. One very cool one was the 'astrobus'. Imagine a bus with 20 scientists in it, driving around the country to squares, universities and secondary schools to introduce young people to the wonders of the universe. One town a day. Teaching young people to look at the stars, but also: showing them the impact of space science on their daily lives: the GPS in their trouser pocket, water filters, smoke detectors, you name it. Everyone uses it, but if you always have to import all this technology, it's expensive and you remain dependent. We want to promote start-ups in Africa to develop local products that can help us move forward: home grown. Space sciences can eventually have a huge impact on the economy and life in Africa.'
(Read more below the photos)
ICE Honours
Tensae is now back in Addis Abeba, but Belgium and Thomas More hold a special place in his heart.
'It all started for me in 2019 when fifteen students from Thomas More were in Mekelle for Moonshot Ethiopia. [2] I was involved in the preparation at the time, but could not be there myself during those ten days they were with us. But our international office director allowed me to coordinate the Ethiopian group of ICE Honours students. We started with about twenty students and selected five projects with various objectives, because that is the purpose of ICE Honours: setting up a project that has social impact and that requires entrepreneurship, leadership and teamwork. Everything was ready and then came COVID. Mekelle University went into lockdown for a fortnight and then the students were sent home. Our group fell apart because students who live in rural areas often don't have internet or they have to go to work. Fortunately, I was able to follow all the sessions and finish the course up to the presentation. So, together with another student, I was found to be honour-proof. And now I just hope that a solution will be found to finish my bachelor's degree and be able to put my honours degree on my CV. Two or three months. That is all I need.'
We hope for Tensae that his dreams come true, that he can finish his studies in peace and security and that he may reach far and see far, beyond the stars, for Ethiopia and for Africa.
(wm)
---
[1] The conflict in Ethiopia is too complex to describe within the confines of this story. This analysis by VRT provides more background and a better understanding of the causes: https://www.vrt.be/vrtnws/nl/2020/11/16/hoe-ethiopie-is-een-oorlog-terechtgekomen-is/
[2] Thomas More and the university of Mekelle have been working together for years. They exchange teachers and students and set up research projects together.
Get shit done and create impact? Check out our ICE Honours-programme here!